Vanitha Magazine 1 - 15 December 2014 Issue Published

Vanitha malayalam magazine 1 to 15 December 2014 1st edition featuring Ahaana Krishnakumar and Padmapriya on cover is now available. Even though Vanitha magazine 1 – 15 December 2014 Volume 1, /Part 1 & 2 free online reading is not practical, you can read the digital version by paying money. The highlight of 1 – 15 December 2014 issue of Vanitha is exclusive interview with Ahaana Krishnakumar, Santhosh Pali, Keerthi Gopinath, Dharmajan Bolgatty, Chemban Vinod, Neeraj Madhav, Santhosh Keezhatoor.


Vanitha is celebrated as the most popular women's magazine among the malayali reading community. Published by the most trusted publishing house Malayala Manorama, Vanitha is truly designed to cater the need of all generations. The magazine has succeeded in winning the hearts of the readers through its innovative approach in content delivery and resourceful features.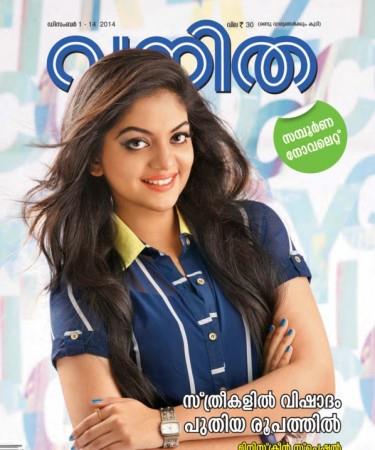 The December 1st edition of Vanitha having two parts featuring actresses Ahaana Krishnakumar and Padmapriya is currently available at newsstands. Tha major highlight of the latest issue of Vanitha are exclusive interview with Ahaana Krishnakumar, Padampriya, Santhosh Pali, Keerthi Gopinath, Dharmajan Bolgatty, Chemban Vinod, Neeraj Madhav, Santhosh Keezhatoor, Cake Magic and Fashion Trends. 1 to 15 December issue of Vanitha will provide a wonderful treat for the readers.

Popular serial actresses Divya Vishwanath, Deevika and Niya open their mind sharing their bright moments with the readers. Divya, much known through her appearance in serials like Ammathottil, Shreemanasu, Indraneelam and Manaporutham talks to hearts about her career. Meanwhile Devika who made her acting debut with the serial 'Parinayam' shares her experience working with actor Thilakan in 'To Let Abmadi Talkies'. Niya is known for her acting brilliance as Lakshmi in 'Amma'.

TV anchors Sathosh Pali, Keerthy, Nimmy and Sindhu talks heart to heart in the latest edition of Vanitha. Reader will get a rare chance to know more about them who had taken a break from the small screen. Comedy king Dharmajan Bolgatty along with his family is featured in this issue. As it is time to celebrate Christmas, innovative recipes like Chocolate Muse on Chocolate Cake, Cake Pops, Trifill would make your dining table more productive.

Njan Stephen Lopez movie fame Ahaana Krishnakumar shares her bright moments in life and big screen. Actress Padmapriya speaks about her marriage and husband Jasmin Shah. A readable journey to Langkawi would bring lot of smile of the face of the readers. Chemban Vinod, Neeraj Madhav, Santhosh Keezhatoor, Amal Neerad and T R Omana have much to share. To add more delight to the celebrations of Christmas, delicious recipes of 10 cakes are featured. Regular columns like 'Chiri Veedukal', 'Beauty Spot', 'Healthy Kitchen' and 'Sex & Life' make the latest issue of Vanitha more interesting.

Vanitha also covers articles on various topics including kids care, Style & Trendy, Astrology, Travel, and Health. Being highly treasured and read by celebrities and prominent figures, the new edition of Vanitha printed in multi coloured pages is highly recommended to readers.