Vanitha Magazine 16 - 31 December 2014 issue now in stands

Vanitha malayalam magazine 16 to 31 December 2014 2nd edition featuring Mithra Kurian and Priyamani on cover is now available. Even though Vanitha magazine 16 – 31 December 2014 Volume 2, /Part 1 & 2 free online reading is not practical, you can read the digital version by paying money. The highlight of 16 – 31 December 2014 issue of Vanitha is exclusive interviews with Priyamani, Mithra Kurian – William, Jewel Mary, Arya Rohit, P C George and Jeethu Joseph.


More than a popular women's magazine, Vanitha is widely celebrated as a lifestyle publication which is much popular among the malayali community around the world. Coming from the most trusted publishing house Malayala Manorama, Vanitha is designed to perfection keeping in mind the need of all generations. The success of the magazine is the innovative approach in delivering content and resourceful features.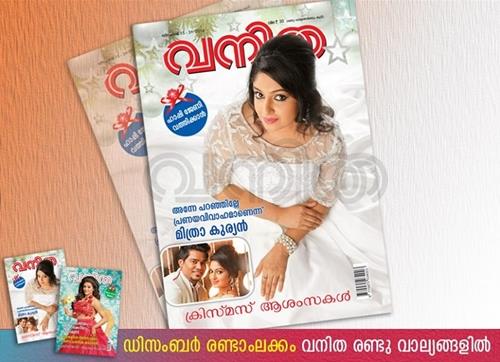 The December 2nd edition of Vanitha having two parts featuring actresses Mithra Kurian and Priyamani is currently available at newsstands. The highlight of the latest issue of Vanitha is exclusive interview with Priyamani, Mithra Kurian – William, Jewel Mary, Arya Rohit, P C George and Jeethu Joseph. The 16 – 31 December issue of Vanitha will provide a wonderful treat for the readers. Popular South Indian actress Priyamani shares thoughts about her acting career and future plans.

Readers will get a better chance to know more about the actress and her secret lover. Mithra Kurian talks about her future life partner programmer William. She expresses her views about her likes and dislikes in life. Chief Whip P C George speaks on his family and political life. A journey with filmmaker Jeethu Joseph through his lucky location Thodupuzha will be more interesting. Actor Ratheesh's wife Dayana, sons Pranav, Padaraj, daughters Parvathy and Padma talks directly from heart with the readers.

In the special Christmas Fashion, trendy sarees like Bridal Style, Orange Christmas, Aapliq, Nizhalayi Shadow Works are presented. During this Christmas, special recipes are also included. Sesty Garlic Bread, Stuffed Roast Chicken, Mashroom Muzaq, Black Forest Cheese Cake would help to make his Christmas and New Year more special. An interview with musician S Balakrishnan make the readers know more about him. Regular columns like 'Chiri Veedukal', 'Beauty Spot', 'Healthy Kitchen' and 'Sex & Life' make the latest issue of Vanitha more interesting.

Vanitha also covers articles on various topics including kids care, Style & Trendy, Astrology, Travel, and Health. As an highly treasured magazine, Vanitha is read by celebrities and prominent personalities. Printed in multicoloured pages, Vanitha recommended for fresh minds.