Vava Suresh: The Ultimate Star

Vava Suresh snake expert, profile and biography are depicted here. He captured and rescued more than 30,000 straying snakes from different parts of Kerala. Keep reading the article to know more about him.


Introduction


Vava Suresh is an Indian wildlife conservationist, and a snake expert. He is well known as 'snake man'. He is used to conserve endangered species of snakes and conduct public awareness about the behavior of snakes. He says that 'I abandoned my schooling at 12. Since then, I have been living for the reptile. Sometimes I feel God has sent me to earth to protect them' . Vava Suresh who made his presence alive in Kerala rose to popularity through his skills in capturing snakes.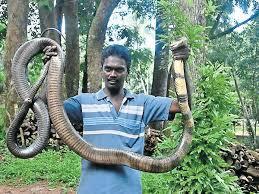 Vava Suresh was born to a poor family residing near Thiruvananthapuram. He started capturing small king cobra at the age of twelve and kept at his home to observe more about the snakes behavior and movements. Then he started learning to capture and handle different varieties of snakes without injuring them. During his career , he has got bitten by snakes more than 260 times including king cobras and lost middle finger of his left hand . Many times he passed through the verge of death. He was put on ventilator twice and ICU four times due to the snakes bites. Doctors explained the exceptional case of Vava Suresh that after getting numerous bites from dangerous snakes , his body develops sufficient antibodies against the snake venom's.

The state government considered his works in capturing dangerous snakes from different parts of the state and offered him a job in the forest department. But he denied the offer , saying that it may prevent him from serving the society with full dedication. He says that he is not getting enough time a day to attend all the cases which came throughout the state. But still he try his level best to attend all the cases. The specialty of Vava suresh as compared to other snake experts , He is not using any protective equipment.


Meeting with Prince Charles

British Prince Charles had an unusual guest at Vazhachaal in Thrissur on November: "Vava Suresh". Prince Charles visited Kerala for four days. Vava Suresh spend thirty minutes with the royal guest at Vazhachaal. An emotional Vava said: "Not all the money in the world could have given me a moment like this". Prince Charles got information about Vava Suresh from his accomplices and social medias. Suresh had traveled in car along with a close relative of Prince Charles to Vazhachal.


Animal planet zooming

Vava Suresh is set to be global with Animal planet. Animal planet crews are planning to make a documentary series with 38 year old Vava Suresh. Channel got information through social networking sites and you tube. Vava Suresh have more than Fifty thousand likes in his Facebook page. Most of his capturing incidents are uploaded in You Tube by the public. His techniques and way of capturing snakes impress the channel authorities. The crew traveled along with Suresh to understand the ways in which he catches snakes without any protection.


Conclusion

Now, Vava Suresh is going to be an International figure and his career becomes more adventurous after recruited to the Animal Planet. Vava Suresh vanishes the fear in snakes among the public by conducting study classes. He won the Vocational Service Award 2011 instituted by the Rotary Club's Thiruvananthapurm division for his excellent service to the society for many years.