Ahana Krishna Malayalam Actress – Profile, Biography and Upcoming Movies

Ahana Krishna Kumar malayalam actress profile, biography and upcoming movies are given here. Ahana Krishna is going to make her debut in the Malayalam movie industry. She is the daughter of noted actor Krishna Kumar. She has just finished her final year degree exams. She is going to make her acting debut in an untitled movie directed by the cinematographer-turned movie maker Rajeev Ravi. She had made her mark in the advertisement industry by acting in an advertisement film promoting Vedika Sarees.


Introduction

Ahana Krishna is another star kid to make her debut in the Malayalam movie industry. She is the daughter of a reputed actor Krishna Kumar. She is going to make her debut along with another newcomer Farhaan Faazil in an untitled movie directed by Rajeev Ravi. Before foraying into the field of cinema, she had appeared as a model in an advertisement to promote Vedika Sarees. In this film, Farhaan Faazil will be the love interest of Ahana Krishna. This will be the second film of Cinematographer-turned movie director Rajeev Ravi, the first being the Fahad Faazil-starrer movie Annayum Rasoolum. Both Farhaan Faazil and Fahad Faazil are the sons of noted movie maker Faazil in the Malayalam movie industry.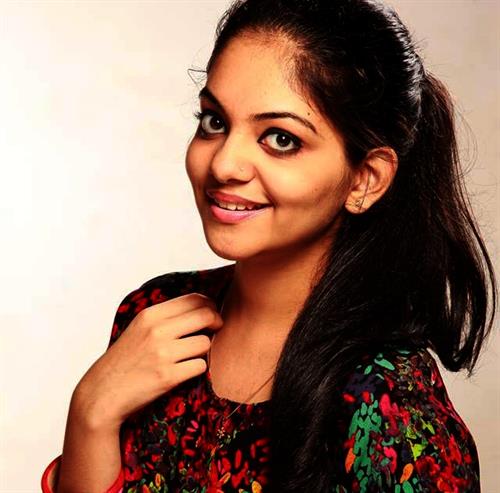 Early Life and Education

Ahana Krishna was born to a Malayalee Hindu family settled in Chennai, the capital city of Tamil Nadu. Her father is a noted film and serial actor Krishna Kumar, and her mother is a housewife. She had her formal education in a reputed school near her birthplace. Later, she was enrolled in a reputed higher secondary school to continue her education. Being born into an actor family, she had the acting skills in her DNA. Hence, she participated in some cultural programs that were conducted in her school premises. She used to become the cynosure of everybody's eyes whenever some cultural event happened in her school. Yet she was not keen on following the footstep of her father. She wanted to concentrate on some other profession where she was sure to succeed. With this in mind, she concentrated on her studies. She is a studious student, right from her childhood days. Because of this, her father did not want to force her into the acting profession earlier. Because of her single-point devotion to her studies, she came out well in her SSLC examination.

After passing the higher secondary examination, Ahana Krishna joined a junior college near her place of birth. Again, she occasionally took part in some cultural event because of her interest. As before, she concentrated more on her studies to come good in the examinations. Here also she did well in her PUC examination. She scored good marks in the qualifying examinations. After the passing of PUC examination, she joined a Chennai-based M.O.P. Vaishnav College for her degree course. Currently, she is in the third year of the degree course. She will be finishing her course formalities by the end of February. After that, she will be seen making her debut in an untitled movie directed by the Cinematographer-turned movie director Rajeev Ravi.


Brief Stint in Fashion Industry

While doing her degree course, Ahana Krishna got an opportunity to work for an advertisement film to promote Vedika Sarees. She was noticed during one of her performances in her college by an advertisement movie maker. He was so impressed by her acting skills that he decided to give her a chance to act in his new project straight away. True to his belief, she did well in that advertisement promoting Vedika Sarees. She did this well, despite of her lack of experience in the modeling field. This was one of the reasons why the noted movie director Rajeev Ravi decided to give her a chance in his next movie venture.


Initial Decline of Offer

Ahana's performance in the advertisement film was seen by the movie maker Rajeev. He was impressed with her acting performance in that advertisement film. So, he decided to give her a chance. With his wish in mind, he approached her father. After a fruitful discussion, her father decided to approach her with this offer. As she had already decided to turn her face away from the path to the world of movies, she immediately declined the offer, citing her busy schedule in academics. Father in Krishna Kumar knew the importance of education and decided to leave her alone. He told the movie director about his daughter's decision. That was the reason Rajeev's first movie Annayum Rasoolum did not feature her as a leading female actor.


Debut in the Malayalam Movie Industry

After Ahana Krishna, the daughter of noted actor Krishna Kumar, is getting ready to enter into the Malayalam film industry. She will be playing the female lead in an untitled movie directed by Cinematographer-turned movie maker Rajeev Ravi. In this movie, she will be acting opposite to the newcomer Farhaan Faazil. Farhaan Faazil is the second son of the celebrated movie director Faazil. This film is Rajeev Ravi's second movie, the first one being Annayum Rasoolum. His first movie was a super duper hit. Ahana Krishna was approached by Rajeev with an offer to act in Annayum Rasoolum. At that time, she was busy with her studies. Hence, she had declined the offer. Moreover, she did not want to follow the footstep of her illustrious father Krishna Kumar to make acting as her career.


Movie Schedule

The first schedule of the shooting of the untitled movie started on January 7, 2014. The shooting is being done at different locations in Thiruvananthapuram district of southern Kerala. According to the director of the movie, the name and other artists of the movie are yet to be decided. Ahana has already joined the shooting crew after completing her examinations at Chennai. The noted cinematographer Madhu Neelakandan is teaming up with Rajeev Ravi to make this movie a grand success. Madhu Neelakandan had also handled the camera for his earlier movie Annayum Rasoolum. At the movie set, she is mingling with other crew members to learn more about the art of film making and acting.


Reason for Sudden Turnaround

Ahana was initially not interested in this offer, as she had decided against making acting her bread and butter. However, Geethu Mohandas, the wife of the movie director Rajeev Ravi, persuaded her to accept this movie and turn to acting. After a sudden turnaround, Ahana Krishna's father is very happy. He hoped that her daughter will come to know about cinema after acting in this movie. After having decided to act in the movie, she is not leaving any stone unturned. She is trying to learn the art of acting from various sources.


First Experience at Shooting Location

After visiting the shooting location, Ahana is quickly adjusting to the new surroundings. She is interacting with other crew members to shed fears and boost confidence. As part of the confidence-building measure, she is regularly interacting with the director and the hero of the movie. The movie director is promoting the meeting of her with Farhaan Faazil to improve the rapport. According to the words of the movie director, this exercise would improve the on-screen chemistry between the two. After a few days of her stay at the shooting location, she exuded confidence that she will be able to complete this project successfully. When she is at the shooting location, she meets the senior artists to learn more about the intricacies of emotive acting and facial expressions. She also thoroughly read the script to understand the properties of the character she is supposed to portray on the screen. With each reading, she is able to identify herself with the character. This is helping her to come out of the initial fear and inhibition she had before coming to the set.


Conclusion

Ahana Krishna is an upcoming actress in the Malayalam movie industry. She is the daughter of renowned serial and movie actor Krishna Kumar. Before her foray into the movie industry, she had a brief stint in the advertisement industry. She had acted in an advertisement industry to promote the Vedika Sarees. Her acting in this advertisement movie was liked by the movie director Rajeev Ravi. Hence, he initially approached her with an offer to act in his first movie Annayum Rasoolum. However, that offer was turned down by Ahana Krishna, citing her engagement with her exam schedules and projects. When the director decided to approach her again with his renewed offer, he took the help of his wife and noted actress Geethu Mohandas. With the help of his wife, he finally persuaded her to accept the offer. After the completion of the final year exams, she joined the crew members at a shooting location in the capital city of Kerala. There she is busy mingling with the people and reading the script of the movie to get acquainted with the environment. Hence, her father Krishna Kumar is very happy for her. At the shooting location, she is also interacting freely with the leading protagonist of the movie to develop rapport with him. According to the director of the movie, this will facilitate the development of on-screen chemistry between the two.