Biju Menon Malayalam Actor – Profile and Biography

Biju Menon malayalam actor profile and biography is given here. Biju Menon is another talented actor in the Malayalam movie industry. He primarily did supporting, second hero and negative roles in films. In these roles, he has earned many accolades and awards for his performances. Whenever he appeared in lead roles, the films flopped at the box office of the state, despite his commendable performances. Later, he got married to former actress Samyuktha Varma with whom he had a love affair.


Introduction

Biju Menon is an established film actor in the South Indian film industry. He has primarily acted in Malayalam language films. Till date, he has acted in more than 100 Malayalam films. He has also shown his presence in Tamil and Telugu language films. He is a versatile actor who has proved his acting proficiency in supporting, second hero, primary hero and antagonistic roles. In the Malayalam film industry, he made his debut in the film Puthran. Biju Menon is married to another acting sensation Samyuktha Varma. Since their marriage, Samyuktha Varma has taken a long break from acting to concentrate on her family.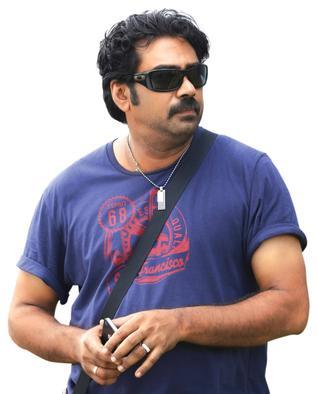 Early Life and Education

Biju Menon was born on September 9, 1971 to a Menon family in a tiny village hamlet in Trichur district of central Kerala. His father's name are Madathiparambil P.N. Balakrishna Pillai and his mother's name is Malathiyamma Menon. He has four siblings. They are Soman, Rajendran, Suresh and Sreekumar. He had his formal education near his place of birth. After completing the formal education, he was enrolled in a reputed high school for his higher secondary education by his parents. Despite of his engagement in extra-curricular activities, he did reasonably well during exams. It was during his high school years that he sharpened his skills in acting. During those productive years, he found himself acting in various occasions in different forums. His peers in school held him in high esteem and often spoke in praise of him. With the completion of his higher secondary education, he decided to devote equal time for his artistic abilities and education. Having this in mind, he joined a junior college that gave him ample time to improve his acting skills. He was prudent enough to schedule his time to devote equally for soft skills development and education.

While studying in junior college, he got enough opportunities to present his acting skills in different external fora. These attempts at showcasing his acting skills did not go unnoticed. He started getting offers from various quarters in the state. In spite of his busy schedule, he found time to study well during his plus two exams and do well in them. He continued his education by joining in a reputed college for his degree. During his degree college years, he happened to meet many reputed artists at various venues when he visited them. With the help of these artists, he created an atmosphere for his entry into the television industry as an actor. Later, he happened to meet the actress Samyuktha Varma and developed a serious relationship with her. For some period, they kept their relationship away from the media's cynosure. Slowly, their relationship started covering many milestones and graduated into a true love. Then, they decided to formalize their relationship through the institution of marriage. So, their marriage was solemnized in the subsequent year. Their relationship became fruitful and a child was born to them in the year 2006. The child's name is Dharmik.


Stint in Television Industry

Formally, Biju Menon began his acting career in different television serials. The television serials in which he featured include Mikayalinte Santhathikal, Ningalude Swantham Chanthu, etc. Through these serials, he became an acceptable figure in the eyes of the serial watchers in the state, especially the middle class families. During those times, these serials were aired through the Doordarshan channels. The mere fact that he could come in the serials sponsored by the national television channel was a big achievement for him. In that period, the people of the caliber only could get past the stringent auditions at the national television studio. This aspect spoke volumes about the proficiency of the actors. No wonder, many of the artists who acted in various programs of Doordarshan have made big in television and cinema industries. His acting skills were noticed by veterans in the film industry. As a result of this, he got the first breakthrough in the cinema industry when he was called for acting in a movie titled Puthran. This film was a sequel to an earlier film Mikayalinte Santhathikal. Fortunately or co-incidentally, he acted in the television serial version of this film. This aspect was taken into account when the movie maker of this film decided to give him an offer. Biju Menon did not let down his movie director and gave his heart and soul to it. His emotive acting in this movie was well appreciated by the moviegoers of the state. This proved to be his launching pad to the world of glamor and acting.


Stint in the Malayalam Movie Industry

After his success in the film Puthran, Biju Menon started getting many offers from established movie directors in the Malayalam movie industry. Though he had the potential to become a hero in a movie, he primarily got offers to act either as a supporting actor or villain. Since people thought that Biju Menon had the potential to become the primary hero in a movie, he was given such offers to act in some films. Unfortunately, despite of his good performance, those films horribly failed at the box office of the state. On the other hand, the films in which he acted as a second hero did well at the box office and drew more crowds to theatres across the state. The film that corroborated this view include Pathram, Chintamani Kokacase, and F.I.R. In these films, he co-starred with Suresh Gopi and portrayed his characters equally well. During the late 1990s, he also appeared in some offbeat films. Here also stood well the scrutiny of the film critics. These films were directed by Lenin Rajendran, Kamal and T.V. Chandran. The offbeat films in which he acted were Madhuranombarakkattu, Mazha and Meghamalar. Though these films were considered offbeat films, they could become the cynosure of the audience at national and international levels.

At some stage in his career, Biju Menon was thought to have entered into the good books of the movie director Lal Jose. In combination with him, Lal Jose made some good movies. The Lal Jose directed movies in which Biju Menon featured include Chandranudikkuna Dikkil, Oru Maravathoor Kanavu, Pattalam, Mulla, Randaam Bhavam, Chaanthupottu, Rasikan and Spanish Masala. Some of these movies became instant hits with the movie goers in the state. Other films in which he featured include Mannar Mathai Speaking, Kannezhuthi Pottum Thottu, Krishnagudiyil Oru Paranayakalathu, Shivam, Marykundoru Kunjadu, Seniors, T.D. Dasan Std. VI B, Mayamohini, Kalimannu, Romans, Chettaiyees, 3 Dots, 101 Weddings, 5 Sundarikal, Mr. Marumakan, Run Baby Run, Ordinary, Venicile Vyapari, Orange, etc. He had won the Kerala State Film Awards for the Second Best Actor for his performances in the films T.D. Dasan Std. VI B and Krishnagudiyil Oru Pranayakalathu.


Stint in Other Film Industries

Because of his success in the Malayalam film industry, he got recognition as an established actor in Tamil and Telugu film industries. In these film industries also he was given the supporting or negative roles to win the hearts of the general public. The Tamil language films in which he acted include Ulakam Chutrum Valiban, June R. , Thambi, Alibaba, Arasangam, Pokkalam, Thambi, Majaa and Agaram. He has also forayed into the Tollywood. In Telugu film industry, he acted in films such as Khatarnak and Ranam. In film Khatarnak, he co-starred with Ravi Teja. In his second movie Ranam, he shared the silver screen with Gopichand.


Awards and Recognitions

During the time span of about 18 years, Biju Menon has acted in more than 100 films, to be precise about 118 films. In this period, he has won many awards for his powerful performances in the films. It includes National Awards, Asiavision Awards, Filmfare Awards South, Kerala Film Critics Awards, and Asianet Film Awards. He has won National Awards 2 times, Asianet Film Awards 6 times and Filmfare Awards South 2 times. He has also won a Vanitha Film Award, a Kerala Film Critics Award and Asiavision Award once for best supporting or second best actor.


Conclusion

Biju Menon is an established movie actor in the Malayalam movie industry. He made his debut in this film industry with the movie Puthran. Before foraying into the world of cinema, he proved his acting skills in different TV serials. Though he had the potential to become a chief protagonist in a movie, he could never become one. This was mainly due to the bad performances of films in which he enacted the leading roles. Ironically, he had acted superbly well in all these films. Another surprising twist was that those films in which he did the supporting roles had become instant hits in the state, drawing huge crowds to the theatres across the state. In the time span of 18 years, he had acted in about 118 movies and won many awards and citations for his stupendous performances. When he began acting in films, he came close to another actor Samyuktha Varma and got married to her. He has a boy child in his relationship with her. He has also acted in a number of Tamil films and a couple of Telugu films. In these films, he enacted either the role of supporting actor or a villain.