Abhinaya Malayalam Actress – Profile and Biography

Abhinaya malayalam actress profile and biography is given here. Abhinaya is the new acting talent who has taken the South Indian film industry by storm. She has secured a special place in the movie industry despite of her disabilities. The people in the industry have recognized her talent and are giving her ample opportunities to come successful in life. Being an avid learner, she has ceased these opportunities and turned them to her advantage.


Introduction

Abhinaya is an upcoming actress in the South Indian film industry. Basically she was born and brought up in the state of Karnataka. She has acted primarily acted in the Tamil movie industry. Of late, she has acted in other South Indian language films such as Malayalam, Kannada and Telugu. Before foraying into the world of films, she had a stint in the world of fashion as an upcoming model. Despite of her disabilities in hearing and speech, she has carved her niche in both cinema and fashion industries. Her debut was in the Tamil movie Nadodigal, a film directed by noted film director in Kollywood Sasikumar. She has also got a passion for dancing and has done many dance programs at different venues.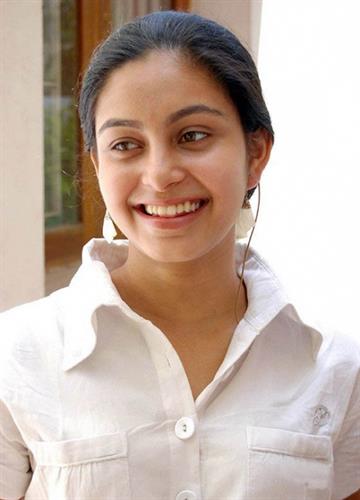 Early Life and Education

Abhinaya was born on November 3, 1991 to a Kannadiga family in a tiny village hamlet called Kadur in the state of Karnataka. Her father's name is Anand and her mother's name is Hemalatha. Currently, she is residing in Hyderabad, the capital city of Andhra Pradesh. Despite being born with defects such as deafness and speech impairment, she always wanted to think big in her life since her childhood. According to her father Anand, she is a born fighter who does not want to get bogged down by issues. In spite of her defects, she tried to behave as a normal child. Her parents put her into training to mitigate the problems due to hearing and speech impairments. Because of this training early in her life, she could regain the confidence to face the external world more confidently.

Abhinaya had her formal education in a special school where she got the initial training to overcome her weaknesses. After the completion of the formal education, she was enrolled by her parents in a reputed higher secondary school near her place of birth. She did not write the SSC examination, as she opted out of the school when she was in the tenth standard. This decision was taken to concentrate on her acting career. Since her childhood, she was exposed to the film world. Hence, she developed the interest in this industry. Moreover, Abhinaya's father has acted some Tamil and Telugu movies. Due to these reasons, the love for the cinema was deeply wired into her psyche. As a child, she used to accompany her father to shooting locations to get acquainted with the process of shooting. She used to watch the shooting process with apt attention.


Brief Stint in the World of Fashion

During her childhood, Abhinaya aspired to become an established model. She knew that her entry to the world of cinema could be secured through her association with the profession of modeling. Hence, she tried to groom herself to become a successful model. Moreover, her parents also encouraged her to become a model and gave her all the support she needed. Hence, she started looking out for the opportunities to prove her skills in this industry. With this in mind, she appeared for a photo shoot arranged for her. During her photo shoot, she happened to meet a noted dancer and actor Lawrence Raghavendra. Her photo shoot was impressive and Lawrence Raghavendra liked it. He gave some contacts that he knew to her father. This was a big turning point in her career. Through these contacts, she got many assignments to act in advertisement films. Through these advertisement films, she could impress the big tickets in the film industry as well.


Debut in the Film Industry

Abhinaya had become the cynosure of the people in the film industry after her impressive stint in the fashion and advertisement industry. Whenever she got the free time, she used to accompany her father to the shooting locations. While she was visiting one of the shooting locations with her father, she was noticed by A.R. Murugadoss. That time, her father was acting in a Telugu movie titled Stalin. This movie was being directed by A.R. Murugadoss. The ace director of Tollywood was aware of her talents. Hence, he decided to suggest her name to M. Sasikumar who is a reputed film maker in the Tamil movie industry. The Tamil film director Sasikumar took this reference seriously and gave her a chance to act in his next movie. After talking to her father, a deal was struck. As a result of this, she featured in the movie titled Nadodigal. She gave her best in that movie, which was appreciated by both general public and the film critics. After the success of this movie, this movie was remade in Telugu and Kannada languages. In these film remakes also she acted, giving her wide exposure in South Indian film industry. The Telugu version of the movie was titled Shambo Siva Shambo and the Kannada version of the same movie was titled Hudugaru. During the following year, she had won two Filmfare Awards for her stupendous performances in Naadodigal and Shambo Shiva Shambo.

Encouraged by Abhinaya's performance and the success of the movie Nadodigal, the ace director Sasikumar decided to give another chance to her in his next movie as well. The second movie in which she acted was Easan. This movie hit the screen in the year 2010. This movie also did reasonably well at the box office of the state. Because of this, her acting in the film was again noticed. All this while, the Tollywood director A.R. Murugadoss was watching her performances. Convinced by her innate abilities at acting, he decided to give her a chance in his next movie 7aam Arivu. In this movie, she acted in a supporting role alongside the superstar Suriya. The other Tamil movies in which she featured include Young India, Kathai, Aatanayagan, and Asaipadugiren.


Stint in Malayalam Movie Industry

Abhinaya's first Malayalam language film was Isaac Newton, son of Philipose. This film was released in the year 2013. This film was directed by V. Bosse. In this movie, she co-starred with Lal, Tini Tom and Nedumudi Venu. The music of the movie was scored by Bijipal. The movie was produced by S. Muralidaran under the banner of P.N.V. Associates. The cinematography was done by Abusha. This movie had limited success in the state. Currently, she has two films in the pipeline. The shootings of these films are going on at different locations. The two upcoming films in which she would feature are 1 By Two and The Reporter.


Her Fighting Spirits

Abhinaya has a passion for acting. Despite her disabilities, she never said no to the challenging roles. On those occasions, she would wear the hearing aid and act as a normal actor. She took special care to learn the movie dialogues. For this purpose, she would write dialogues in English and practice with the help of her mother. In order to further her ambition in this field, she even underwent costlier Cochlear Implantation surgery to correct her hearing disability. As a result of this, she got her hearing restored. Through these deeds, she has become an inspiring role model for all those individuals who have been plagued with disabilities from their birth.


Her Passions and Hobbies

During his leisure times, Abhinaya loves to play with pets, read magazines, play Sudoku games, chat with friends and relatives, and watch dance programs. She herself is a trained dancer. So, she also participates in dance programs at various venues across South India. She also finds time to participate in various modeling events to further her interest in modeling industry. She finds her role model in Aiswarya Rai. In between the busy schedule in the movie industry, she also finds time to pick up the advertisement assignments, as he does not want to forget her roots and struggles before entering into the film industry.


Recognitions and Citations

Abhinaya was fortunate enough to get the Best Debutant Award for her performance in the Tamil language film Nodiagal. For the same film, she got Vijay Best Supporting Actress Award and Best Supporting Actress Award from Jaya TV. For the same movie, she was nominated for Filmfare Award for the Best Supporting Actress and Vijay Award for the Best Debutante Actress also.


Conclusion

Abhinaya is a special actress who created a storm of sorts in the South Indian film industry. Her life and works assumed special significance due to her disabilities. Despite the disabilities, she could mark her place in the industry through her hard work and single-point dedication. She even tried to steer clear of her difficulties by making suitable corrections. She had put extra efforts to make her on-screen presence as normal as possible. Before foraying into the film world, she had a brief presence in the world of fashion. From the world of fashion, she gained enough contacts to launch herself in the world of advertisements. Despite her busy schedules in the movie industry, she finds enough time to take up assignments in fashion and advertising industries and finish them before the turnaround time. She also is a passionate dancer. She avails the opportunities to showcase her acting talents at various fora whenever she gets enough time. Other free time habits are reading magazines, playing Sudoku, petting and playing with pets, chatting with friends, relatives and fans, and listening to good music.