Meera Anil Malayalam Actress and TV Anchor - Profile, Biography and Upcoming Movies

Meera Anil malayalam actress and TV anchor profile, biography and upcoming movies are given here. Meera Anil the engineer turned anchor is now getting into the world of large screens through the Rajesh Pillai film "Mili". Read the below article to know more about Meera, her interests and career life.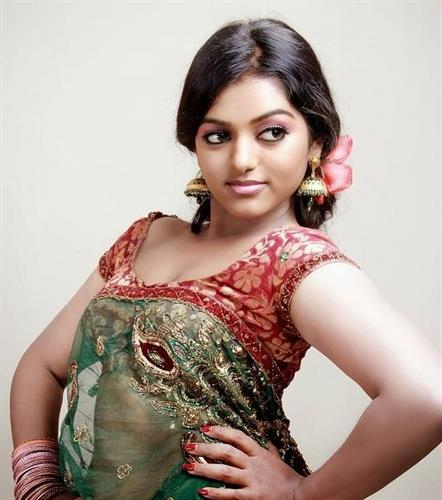 Personal Life and Interests of Meera Anil

Meera Anil is quite a familiar name for the comedy lovers in Kerala. She is an upcoming actress and is currently anchoring the comedy program named Comedy Stars Season Two in Asianet TV Channel. She hails from the capital city of Kerala and was born on 28th of March 1990. Meera completed her schooling from Christ Nagar School in Trivandrum. Further she completed her graduation in civil engineering from Mar Baselious College of Engineering, Trivandrum. Due to her interest in the field of media, she is currently pursuing a course in journalism as well. She is a modern girl who is trained in various forms of classical dances such as Bharatanatyam, Mohiniyattam and Kathakali. Meera Anil's dancing talents was recognized in the year 2009 when she was awarded the Kerala University Kalathilakam.

The engineer turned actress has got an offer from a leading international IT firm as well. However she has extended the date of joining as she is currently busy with her shooting schedules. This talented girl even finds time for her passion, dance even during her hectic schedules at work. She makes it a point to attend dancing classes at least twice a week. In short, Meera Anil is truly a versatile personality who is able to shine in various fields. Even though she was in the field of anchoring for long, it was the comedy stars show which gained her lot of fame and popularity. She has also hosted the recent Boby Chemmanur's marathon along with the renowned television anchor Renjini Haridas and the Vishu Award Mega Night. Meera, the gorgeous girl has also proved her talents in modelling.


Career Life of Meera Anil

As a TV Anchor
Meera Anil started her career in the media industry as a television anchor. Annapurna Lekha Pillai, the television presenter was the school mate of Meera Anil. As they were friends Meera visited her on a TV set and there Meera was introduced to the producer of the shot, Unni R. It was Unni who spotted the talents in Meera and he is now a script writer for films. He felt that she has a screen appealing face and called her for an audition for a Malayalam news channel. Luckily, Meera was able to do well in the auditions even though the judges presented there were famous TV personalities. Thus she got selected and was given the opportunity to host the show named 'Sthree'. The show was a bit serious show on women from various fields. However, there begins the career life of Meera Anil.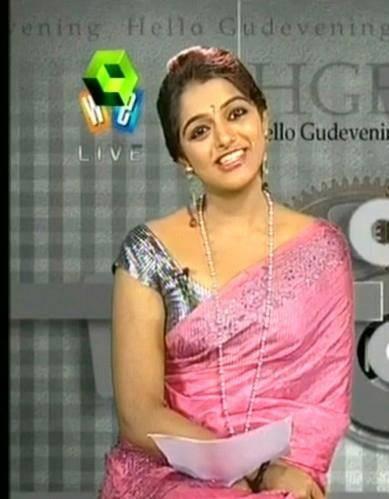 Meera Anil has also appeared as the anchor for the unique fashion based show named 'Top 3 Models' telecasted in Asianet. This show was all about fashion and the changing trends in fashion. Meera was able to do a good job here as well. One of the popular shows anchored by Meera was the 'Hello Good Evening show telecasted in Kairali WE Channel. Some of the old anchors of this show are now very popular film actresses in the Malayalam film industry. Remya Nambeesan and Tessa are a few to name. Who knows, one day Meera too will become a great actress. Another advantage of being an anchor is that they get to meet lot of famous personalities. The veteran actor Mamooty had once told her to make good use of such a platform, so that she will reach greater heights in future. While hosting Hello Good Evening, Meera was lucky to interview eminent persons such as Mohanlal, Mammootty, Vikram and Vijay.

The field of anchoring now has lot of newbies in it therefore there exist tight competition and the survival is challenging. Meera became popular among family audiences through the comedy stars program in Asianet. She is too very comfortable with the set and the chief judge, Jagadish, actor Baburaj and singer Rimi Tomy does play a good role in keeping her happy. Meera says, "I have been anchoring the show for more than one and a half years now. Every month, for about 10 days, the set is my home and I have enjoyed every moment spent there. Though I had a co-anchor, Karan, in the beginning, I have been anchoring it all alone for more than 160 episodes, as Karan got busy with his business-related tasks. Interestingly, I was initially called for profile shoots of the programme. The producer felt that my style would suit the show and that is how I joined Vodafone Comedy Stars." She added that her life with these quick witted people helped her to increase the level of her sense of humor.

The only problem she faced in the initial stages while anchoring TV shows was to please the audience. But now she has learned the technique and says that Malayali audience will accept a host only if she is dressed up in the traditional way with Jasmine flowers and saree. They prefer to watch stylishly dressed anchors in international channels but not in their regional channels. Now, Meera has reshuffled her anchor-wardrobe and included more sarees in it to have a Malayali look. It did help her as she is now recognized by many. The anchors says that she feels really happy and excited when people recognizes her while shopping and outings. This lucky chap was able to present shows of different genres. All these makes her a good and popular anchor in the small screen. Above all she got introduced to many well know personalities in the film field through her job as a presenter.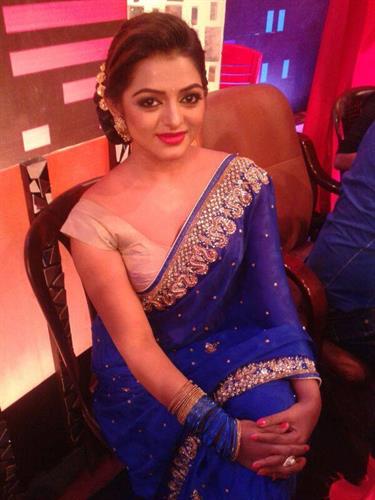 Meera Anil, The actress
Like Remya Nambeeshan, who was the anchor of Hello Good evening show, now Meera Anil too is getting into large screens from small screens. As Meera was an anchor, she was able to connect with people from all walks of the life. That might have helped her way into the film industry easy. She is going to make her debut through a Malayalam film titled "Mili", directed by Rajesh Pillai. This too is a film with a good message like his earlier hit 'Traffic'. In an interview, Rajesh Pillai has commented that the movie is based on his life. Amala Paul and Nivin Pauly appears in the female and male lead roles respectively. Amala Paul appears as Mili, the title character and is paired opposite to Nivin Pauly. About the movie, the director says, "Mili is an introvert, but what makes her different from others is that, she considers her failures as a stepping stone to success,there is a Mili in all of us. She rises above all challenges and takes the reigns of her of life."

Meera Anil is given a prominent role in this movie. She had received many offers from the film industry earlier as well. She was even called for the Lal Jose film Pullipulikalum Aattinkuttiyum and Ezhu Sundara Rathrikal but she had rejected the offer. The reason for rejection was simple that she has home-sickness. In an interview Meera said that when she saw the picturization of the song "Ottathumbi" in the movie Pullipulikalum Aattinkuttiyum, she felt really bad for rejecting the movie. Meera adds that she prefers to work for TV programmes as a producer or script writer. The actor and writer Shankar Ramakrishnan is her relative from whom she takes advises and suggestions about the industry and films.

Anyways the movie, Mili is been shooted in Trivandrum itself, hence the anchor turned actress do not have to suffer from home sickness. She admits that it is not a good habit when she pursues a career in the media industry. This habit of her's is quite popular and her friends calls her 'Thiruvananthapuram anchor'. Now, Meera is all excited to be a part of the movie but she is not ready to leave the small screen completely. She ads that if she gets good offers, she wouldn't mind working with a good team but until then her first priority will be for anchoring. Rajesh Pillai, the director has seen Meera anchoring the Comedy Show and had offered her a role in Mili. Meera is all happy and excited to work with a good team and a popular director. About her role in this movie, Meera says, "I can't reveal too much about my role. I can only say that the role is the representation of young people who love the glitter of the urban milieu and want to escape the cocoon of tradition and values. What I loved in this character is that I could relate myself to it." We have to wait a little more to see the gorgeous Meera in the large screen. Until then lets wish her good luck!