Charutha Baiju Malayalam Film and Serial Actress - Profile, Biography and Upcoming Movies

Charutha Baiju malayalam film and serial actress profile, biography and upcoming movies are given here. Charutha Baiju is an upcoming actress who has been in the field of acting since long. She is now popular through the serial Chandanamazha were she performs the role of Anjali. Read the below article to know about this talented girl.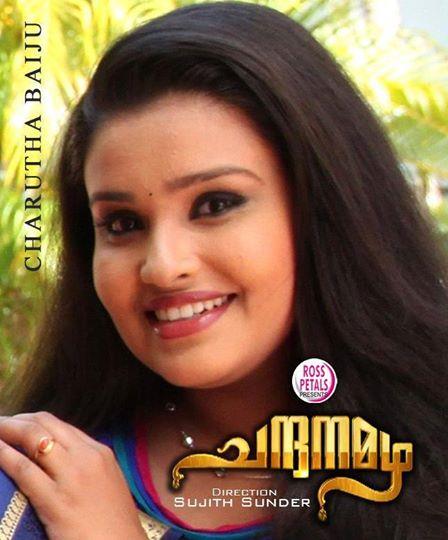 An Introduction to the Personal Life of Charutha Baiju

Charutha Baiju is now a familiar face to the Malayali audience through the popular serial Chandanamazha telecasted in Asianet. Charutha, the young talented actress hails from Thripunithara of Ernakulam district, Kerala. She is born to Mr. Bhaiju and Mrs. Sreelatha Bhaiju. Both her parents are engaged in business and she has a younger sister, Chandana Baiju, who is currently studying. Charutha did her schooling from St. Joseph School and is currently pursuing her graduation.

Charutha Baiju is a talented and a pretty girl with lot of liveliness in her. She is also trained in various forms of classical dances right from a very young age. Charutha was a regular dance performer during her school days and has won many prizes for Folk dance, Bharatanatiyam, Mohiniyattam, Mono Act, Ottan Thullal and so on in both the district level as well as the state level. She has also appeared in about thirty ads and has also acted in various musical albums. She has also hosted the television program Vivel Miniscreen Maharani Contest telecasted in Surya TV. Charutha is a model and an anchor too who has learned music as well.


Career Life of Charutha Baiju

Charutha who was already into dancing did not have any stage fear at all. Moreover she started acting at the age of six itself. Her first venture was an ad for Veegaland Amusement Park, which she did while studying in Grade I. She made her debut in the film industries through the 2008 Tamil film "Dhandayuthapani", directed by Saravana Sakthi. In this movie she appeared as the sister of the hero. Her dancing skills along with her experience as an anchor and child artist paved her way to greater heights in the film industry.


Charutha Baiju, the Anchor

Charutha Baiju who has excellent skills in grabbing the attention of the audiences has showcased her anchoring skills as well. She was the anchor of the Malayalam show 'Tharolsavam'. It is a TV Actors Reality Show put forward by Kairali TV. Charutha who is vibrant and enthusiastic was able to host the show well and she did receive lot of appreciations for the same. She was even awarded the Best Anchor Award for the year for her outstanding performances in this show. Charutha has also anchored for various musical shows in Asianet channel and Kairali WE TV. Her knowledge in music has helped her to shine in these shows. Apart from anchoring, this little girl has also taken part in the cookery show telecasted in Kairali TV.


Charutha Baiju, as a serial artist

Charutha started her career as a serial artist through the Malayalam serial 'Achante Makkal', directed by Sachin K Ibaque. The serial was telecasted in Surya TV. Charutha gave life to the character 'Vyga' in this serial. Further she was casted as Vineetha, a cruel girl in yet another Malayalam serial. "Pattusari", directed by popular director A.M Nazeer. This serial is telecasted in Mazhavil Manorama. Through this serial she had gained the cursing of many family audiences as her character is a negative one. But Charutha is happy as she could do a different role through this serial. But she really became noticed through her appearance as Anjali in the Asianet serial "Chandanamazha", directed by Sujith Sunder. Anjali is the daughter of Urmila Desai (Roopasree) and is born to the rich Desai family. She is in love with Adarsh but her parents have fixed another marriage for her. Anjali is a bold girl who is a bit cruel and selfish. Charutha is able to do hundred percent justice to her character and the serial is wholeheartedly accepted by the Malayali audiences through out the world. By doing three different serials in three different channels, Charutha is now familiar to all Malayali viewers.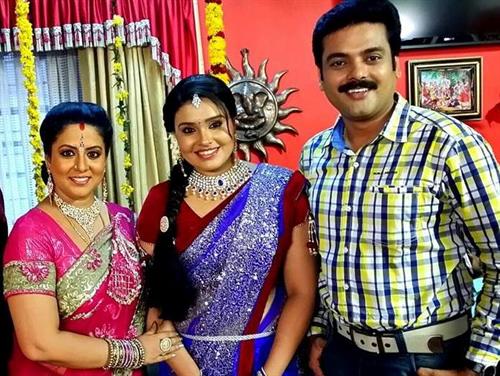 Charutha Baiju, the Malayalam Actress

Charutha started her career in the field of acting as a child artist. As mentioned earlier, her debut movie was a Tamil film, Dhandayuthapani. Her first flick in Malayalam was the movie "Rashtram", directed by Anil C Menon, in which she played the role of Jose Prakash's daughter. Further in the year 2007, her next movie was released. It was a Dileep movie named "Inspector Garud", directed by Johny Antony. She has also appeared in a supporting role in the 2008 movie "Anthiponvettam", directed by A V Narayanan. She was also lucky to get character roles in the 2009 Malayalam film "Calendar", directed by Mahesh and in yet another 2009 movie "Bhoomi Malayalam", directed by T. V. Chandran. In Bhoomi Malayalam she appeared as a journalist and in Calendar she essayed the role of Prithviraj's sister.

The year 2009 was a blessed year for Charutha as she got to play a role in the movie "E Pattanathil Bhootham", directed by Johny Antony. It is a Mammooty film in which Charutha portrayed the role of Mammooty's sister, Meenakshi. This movie and the character was a turning point in her life. About the character she says, "The name of my character is Meenakshi. A member of a street circus troupe, she is very smart and lively." Charutha was also a part of the women oriented movie "Kadaksham", directed by Sasi Paravoor. Charutha has so far done only character roles in Malayalam film industry, that is when she got an offer for the film "Senior Mandrake", directed by Ali Akbar. She gave life to the female lead character Aneendra in this movie. Aneendra is a bold girl from Delhi who has come to Kerala to do some research. Charutha was able to perform well as Aneendra. We could then see her in the 2012 Malayalam movie "Kalabhamazha", directed by P Suku Menon and in "Jawan of Vellimala", directed by Anoop Kannan.

Sthalam, Thanichalla Njan etc are her other movies in Malayalam. Anjali has acted as the heroine in one of the Tamil films as well. The title of the movie is "A Piravu Manarvakal". It was directed by Gopinath G.K. Charutha says that she is ready to work with a good team provided the role requires her to be less glamorous. About Tamil film industry, Charutha says, "The Tamil industry is very homely, they treat women with respect and they try their level best to make even a new comer like me comfortable." Charutha is very strict about her studies and want to continue her education along with her acting career. She was successful in handling both together so far. Right now she is working for two serials and has committed some other projects as well. Let us wish to see her growing up as an eminent actress.