Jyothi Krishna Malayalam Actress - Profile, Biography and Upcoming Movies

Jyothi Krishna Malayalam actress profile and biography is given here. She who has acted in many movies has a handful of movies in her hand. Read below to know more about her upcoming movies.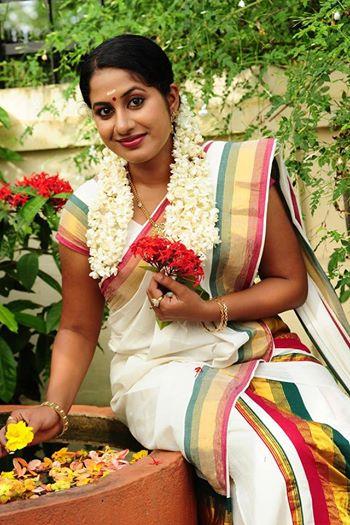 Personal Life and Interests of Jyothi Krishna

Malayalam film industry is witnessing the entrance of many new young talents. Jyothi Krishna is one among the promising actress our film world has seen in the recent past. By now she is quite familiar to all as she has acted in more than five movies and has also committed few more projects. This lucky lady was part of many good projects right from the beginning and that made her popular. Jyothi Krishna, the pretty girl with a simple Malayali look was born on 27th August 1990. She hails from Thrissur district, the cultural capital of Kerala. Her father is a businessman and her mother is a beautician. Both of them were settled in Qatar, but now her mother has come back to Kerala. She is the only child to her parents. Jyoti completed her schooling from a local school in Chalakkudy. Now she has to drop her education due to her tight schedules at work.

Jyothi Krishna is also trained in classical dance. She has performed for various stage programs and for school and college events. She says that her talents and knowledge in dancing has helped her in acting as well. Jyoti is also a talented singer but has not learned classical or western music. The actress says after hearing her singing, one of her director had said that he will surely make her sing for one of his films. She looks cooking as well. Jyothi is a great devotee of Lord Krishna and has strong beliefs in Almighty. She says that her favorite dish is chicken and will put a full stop to dieting when she sees chicken curry or any other chicken dishes. Now coming to her taste in dressing, she prefers churidars or sarees and hardly wears modern dresses. But now she has to wear jeans as she is more popular and her career demands it. However this little girl is not ready to take up glamorous roles in films.

Jyothi who does not have a strong liking towards makeups and accessories is always seen in traditional wears or simple dresses. This charming actress too has an interest in football. She says her favorite team is Argentina. Jyothi Krishna who has the habit of acting in front of her mirror admits that comedy is not her cup of tea. According to Jyothi she had lost many good offers in films as she is plumpy. She says that the modern Malayalam film industry demands the actress to be thin. Her parents are settled in Qatar and this bubbly girl visits them during vacations. Once when she went to Qatar, she got an offer to act in a musical video album. Jyothi adds that she always had the dream of becoming an actress. She developed a strong liking towards this field after seeing the acting of Navya Nair in the film "Nandanam". Now lets us move down to know more about her career and her entry into films.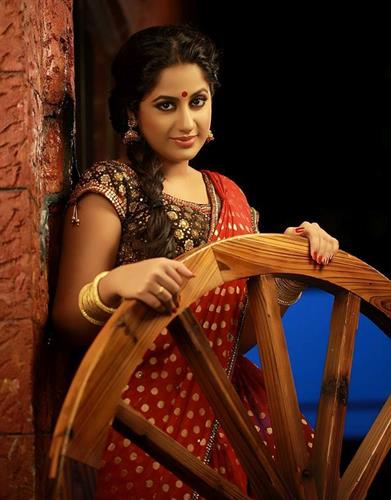 Career Life of Jyoti Krishna

Jyoti Krishna was earlier an anchor in Kairali TV. Further she got an offer to act in a devotional musical video album named "Sree Nandanam", directed by Udayasankaran. She says that it was on her 18th birthday that she first stood in front of a camera. Her first shooting location was the renowned Varikkassery Mana, portrayed in many Malayalam films. Jyoti, a strong Krishna devotee and an admirer of Navya Nair's acting in the movie Nandanam was lucky to start her career by acting in a devotional album about Lord Krishna. It is a wonderful musical creation in which the songs are composed by Gireesh Puthenchery and Jayanandan Chethana. The album was a turning point in the life of this talented girl. Director Babu Janardhanan, after seeing her performance in this album, called Jyothi to act in his 2011 Malayalam film "Bombay March 12". It was a Mammooty film which had Unni Mukundan in the lead role. Jyothi was lucky to be paired with the handsome, talented Unni Mukundan. It was the first flick of Unni Mukundan too. Jyoti says that she did not have any combination scenes with the great actor Mammooty and also she did not get a chance to meet him during the shoot. The movie was not a great success but Jyoti was appreciated for her performances.

About her first experience, Jyoti says, she was all afraid as she has only been to the album set earlier. She was expecting only few members in the set like her previous album shoot but to her surprise there were around 100 to 200 people. Above all the first scene taken was her's. She says she had to do it thrice to get it right, after that she became ok and did not have any fear at all. Jyoti then appeared as the supporting cast in the 2012 movie "Last Bench", directed by Jiju Ashok. The story revolves around the life of four friends and the incidents when they meet after years. Vijeesh, Biyon, Mustafa, and Mahesh plays the lead roles in this movie. Jyoti who appears as Sneha, is one of their classmates and her role is a prominent one in the movie. After this movie, Jyoti was again seen in a supporting character in the Salim Kumar film "Lissammayude Veedu", directed by Babu Janardhanan, the man who brought Jyothi into the screen.

Her next flick was "Ithu Pathiramanal", directed by M. Padmakumar. The lead roles were played by Unni Mukundan, Jayasurya and Ramya Nambeeshan. In the movie Ithu Pathiramanal Jyothi appeared as the character Shallomi. The shooting locations were Marayur, Pathiramanal and Alapuzha. Jyoti says that Unni Mukundan and she started with the same film but when they met for this film, Unni has become a star and Jyoti was the second heroine in this flick. Jyoti's next movie was "Dolls", directed by Shalil Kallur. John, Sruthi Nair, Jaganatha Varma, Saddique, Shanavas, Rudrash, Shenby, Geeta Vijayan, Parvathy, Indranse, Babu Namboothiri, Kalasala Babu etc were the other casts in this movie. Even though Jyoti did her part well, the movie was a big time flop. Hence many did not notice her performance in the movie.

Jyoti Krishna was next seen in the Malayalam satirical drama film "God for Sale", written and directed by Babu Janardhanan. The film had Kunchako Bobban and Jyoti Krishna in the male and female lead roles respectively. Suraj Venjaramoodu, Anumol, Tini Tom and Thilakan appeared in other prominent roles. Jyoti who appeared as Kamala gave life to a village character. She is paired against Kunchako Bobban. The film is all about men who claims that they are God. Jyoti says that she was much comfortable acting with the chocolate star Kunchako Bobban. Her greatest appreciation was after the release of this movie, superstar Mammootty had called her and said that she had put forward excellent performances. Isn't that enough for a young artist!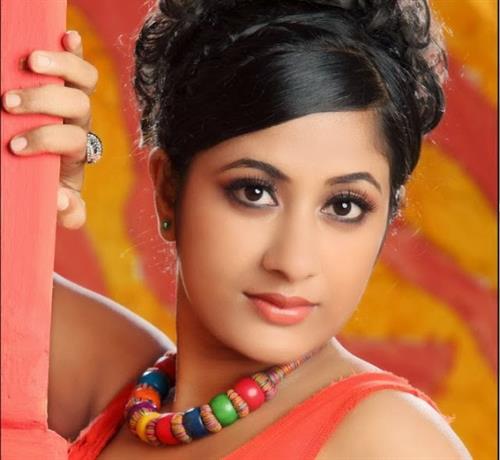 After enacting the role of Kamala well, Jyothi appeared as a refugee in the movie "Moonnam Naal Njayarazhcha", directed by T A Razack. It is an offbeat movie produced by actor Salim Kumar. Jyoti's role in this movie was a serious and a prominent one. National Award winner Salim Kumar appeared in the lead role. Jyoti acts as a house wife who who is forced to leave her place due to certain reasons and she has to live as a Christian in the new place. She has done excellent performances in this movie and was happy that she could share the screen with Salim Kumar. Even being a new actress and when there is tight competition in the field, this actress has got many offers. She says that she prefers to work with a good team under a good banner and most importantly she should get a good character and the movie should have an excellent script. According to her only then people will notice the artists. She says she will not just go behind money as acting is her passion and she prefers to be known in this field.


Upcoming Movies of Jyoti Krishna

Jyoti has showcased her acting skills through a couple of films. This helped her to get more and more offers from the industry. She is becoming popular and is been called for interview by many TV channels. All these proves that she is just excellent in acting. This young girl will be coming up as the wife of Dulquar Salman in the movie "Njan", directed by renowned director Ranjith. The movie has three heroines, Jyoti, Anumol and newcomer Shruti Ramachandran. The movie is based on the acclaimed novel K T N Kottur Ezhuthum Jeevithavum by T. P. Rajeevan. The shooting is progressing in Calicut and it is a story about the 40's. When it is a Renjith movie there is more to expect and hopefully this movie will be a turning point in the life of this young actress. The movie is produced under the banner of Gold Coin Films.

Jyoti will be paired with the most accepted actor Jayaram in the film "Sir CP", directed by Shajoon Kariyal. Jyoti who has been seen in a traditional look so far will be coming up as a modern girl in this family entertainer. The shooting of the film is progressing in Alappuzha. There were lot of rumors spread during the initial shoot of this movie but later Jyoti has cleared it all. It will be a challenging role for Jyoti who is not into modern style. Let us wait to see the outcome. In an interview Jyoti said that she was not at all afraid to act along with Jayaram as she had heard that he is a very cool person.

"Avicharitha", a movie directed by debutant director Shanavas is yet another upcoming project of Jyoti Krishna. She will appear in the female lead role in this movie opposite to Tini Tom. Jyoti says that she really liked the script of the movie and that is why she decided to take it up even though the director was a newbie. The film has only five characters and the story is about the incidents happening in their life in one night. Jyoti will give life to a Muslim character 'Rihana'. She says it is her first attempt to enact a Muslim girl. Rihana is a pregnant lady and is a backbone character of the flick. Tini Tom, Anil Anto, Manikandan, Jyoti and one more lady will make the five characters of the movie. The shooting is underway and Jyoti is all excited about it. She is sure that this will be one of the good films of the year.


Conclusion

Jyoti, the talented actress has been receiving lot of positive feedbacks and appreciations from in and out the state. She was also honored by giving an award during the Malayalasree Award Night. There is more for this lady to go. This dancer turned actress can definitely reach greater heights as her dedication is worth mentioning. She who has been only seen in Malayalam films would like to take up Tamil films as well if good offers come her way. But she does not want to get into glamours roles.