Roopa Sree Malayalam Serial Actress - Profile and Biography

Roopa Sree, Malayalam serial actress profile and biography is given here. Is there any one who doesn't know the bold and strict yet sweet mother-in law of the mega serial Chandanamazha? Yes, she is the Tamil actress Roopa Sree. Read the article below to know more about this talented actress.


A brief about Roopa Sree

Roopa Sree is now very familiar to the Malayali audiences as 'Urmila Devi' of the Asianet serial Chandanamazha. Even though Roopa Sree was in Malayalam film industry earlier, she was not noticed by any as most of her films were failures. But now through this mega serial, she really got a break and it will definitely change her career level. Her outstanding performances as Urmila Devi is liked by one and all. She is the most powerful and strong character in the serial. The positive nature of the character along with her acting skills has made Urmila Devi a favorite of Malayalam family audiences. She is still considered as a Malayali by many but the real fact is that she is a non-Malayali.


Roopa Sree, The Malayalam Film Actress

Roopa Sree was into acting since long. She has acted in Kannada, Tamil and Malayalam films. Her entry into Malayalam film industry dates back to the 90's. She has acted in a coupe of Malayalam films. Yes, but she was not noticed or identified by any as the films were utter failures. This is a proof that even talented actress remains unnoticed if the films they get are flops. She debuted in the Mollywood film industry through the film "Kallanum Policeum", released in the year 1992. The movie was directed by the renowned director IV Sasi. It was produced by VBK Menon under the banner of Anugraha Cine Arts. Mukesh, Manoj K Jayan and Ragini appeared in the lead roles while Roopa Sree, KPAC Lalitha, Innocent, Shankaradi, Kanakalatha, Mammookkoya, Pappu, Oduvil Unnikrishnan etc appeared in the supporting roles.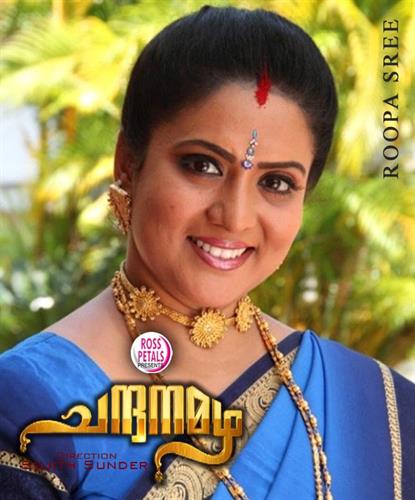 Further the talented actress, Roopa Sree was seen in the 1995 movie "Arabikadaloram", directed by S Chandran. This film had Silk Smitha and Shivaji in the lead roles. Here too Roopa Sree got a prominent supporting role. She with her excellent acting skills has done cent percent justice to her character. However luck did not favor her this time too, hence she did not come into the limelight. Luckily now she has made a come back to Malayalam industry through the small screens. Here her acting is well accepted and is receiving lot of recognition too.


Roopa Sree, Malayalam Serial Actress

The mega serial Chandanamazha, directed by Sujith Sundar is a turning point in the life of this amazing actress. This serial telecasted in Asianet helped her to showcase her acting skills which was not recognized even when she appeared in few Malayalam films. In Chandanamazha Roopa Sree appears as Urmila Devi, daughter in law of Desai family. She is a very genuine person who is very strict and has strong views in life. She is intelligent too. Urmila always finds out the mistakes done by Varsha (Shalu Kurian) and her mother Mayavathi (Kanya). Urmila's son, Arjun (Subramani) is married to an orphan, Amrutha (Meghna Vincent). Their married life is not very nice, hence Urmila tries to help her daughter in law. Urmila is portrayed as a brave women who took care of her children even when her husband was into poetry and did not contribute anything to their family business. Roopa Sree is doing a wonderful job as Urmila Devi. There is no flaws in her acting and it is just perfect.

Roopa Sree even won the best actress award in character role for her performances as Urmila Devi during the Asianet Television Awards 2014 held at Kozhikode. The expressions appearing in her face are priceless. She is the most outstanding character in the serial. Her way of dressing, make up and the accessories she wear had also added to make the character, Urmila Devi an unique one. Credit also goes to Saira, her dubbing artist. As Roopa Sree can't speak proper Malayalam, it is the dubbing artist Saira who gave voice to her character Urmila Devi. Urmila is on the whole a different mother-in-law character from what we have seen so far. It made her more close to the family audiences. As Roopa Sree proved her self as an excellent actress, surely more offers will come her way.


Roopa Sree, the Tamil Film and Serial Actress

Roopa Sree started her career life in acting when she was just 13 years old. From then she had appeared as heroine in a couple of Tamil flicks. Roopa Sree can be seen in the 1992 T. Rajendar film "Enga Veetu Velan". Selvaraj, Rekha, Silamarasan etc appeared in the prominent roles in this flick. It was an average movie which had run for 100 days. Roopa Sree who appeared in a supporting character was identified by the Tamil audiences. She had got many offers. She was next seen in the 1992 flick "Idhaya Nayakan", directed by J. Raj.

The 1995 film "Gangai Karai Paattu" is yet another Tamil film of hers. It was directed by Manivannan and had Varun Raj and Roopa Sree in the male and female lead roles respectively. The movie was produced by S. Pandian under the banner of Kokkintha Cine Arts. In the same year she was again seen in teh lead role along with Sangeetha and Rajkiran in the movie "Ellame En Rasathan", directed by Rajkiran himself. This film was a hit at the box office thus Roopa Sree became popular in Kollywood. She was then seen in the 1996 film "Vetri Mugham" as well. Roopa Sree has also acted in many Tamil television soap operas. Currently she is doing three Tamils serials.


Personal life of Roopa Sree

Roopa Sree, the extraordinary actress hails form Chennai, Tamil Nadu. She started her career in acting at the age of 13 years by staring with the Tamil film industry. Now she is quite popular in Tamil Nadu, Karnataka and Kerala as an actress. Roopa Sree who appeared as a heroine in many films was not recognized well as some of her films were failures. Later she moved on with character roles and she did appear in glamorous roles as well. Further she took a break and was not seen in the film industry for some time. Again she made a come back through serials and now she is appearing in Tamil and Malayalam serials. Her second entry is really a good turning point in her career life. Currently the actress is settled with her husband and children in Chennai.