Gayathri Asokan Malayalam Playback Singer: Profile and Biography

Gayathri Asokan malayalam playback singer Profile and Biography is given here. Gayathri Asokan, a renowned playback singer who hails from 'the Cultural Capital of Kerala' named Thrissur and is currently one among the best playback singers in Malayalam industry. Read this article to know more about Gayathri Asokan.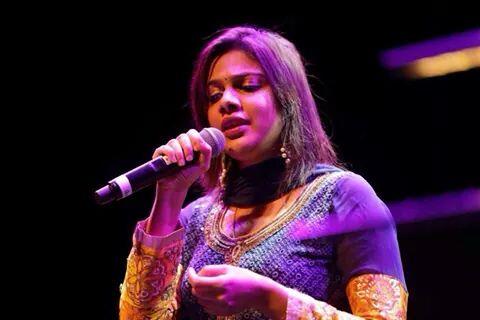 Introduction
Gayathri Asokan, a renowned playback singer who hails from 'the Cultural Capital of Kerala' named Thrissur is currently the most inimitable playback singer in Malayalam industry. She was born on 2nd March 1979 and her parents are 'Dr. P. U. Asokan' who is a skin specialist and 'Dr. K. S. Sunidhy' an eye specialist. Gayathri's grandmother 'Ammukutty' was even a teacher in Carnatic music and her great grandmother was a veena professionalist. Her younger brother 'Ganesh' who is a software engineer is verily very supportive for her and he always enjoyed each and every song sung by Gayathri. Even though being an academic family, her desire or passion was to become a singer by profession. She has even done many composing and is well versed in Hindustani, Carnatic music, Bhajanas and much more.

During Gayathri's tender ages she wished to be a doctor just like her parents but later thought of the risk in the field and started taking music as her profession. She always love to sleep a lot and says that she is not that much a discipline type but would always do her rehearsals whenever she becomes free. Ganesh who really fantasies his sister's songs was indeed a great critic and always pointed out the faults which he felt. Gayathri eternally feels lucky to get such a loving and caring family.


Career
Gayathri took her first step in her career to learn Carnatic music and she was lucky to get 'Sri. Mangat Natesan' and 'Sri. Vamanan Namboori' as her trainers. Then she started to learn Hindustani music under prominent trainers. But among all her trainers 'Sri. Sri. Shankar' was the most influential person and had helped her a lot in her career. Gayathri's entry to playback singing industry was quite awkward as she had never dreamt of entering this field. One of her friend and a great thapalist 'Philip Francis' surprisingly took her to Ravindran who was impressed with her performance. From there onwards her career changed and rose up to glory. She is even blessed with a great band which gives her full freedom to express and perform freely. She has now spread her wings to many other countries and the highlighting part which separates her from others is that, she gives equal dedication to every sections that she has learned and performs to her best when given an opportunity. Art of Living foundation has given her a great platform to express her talents and gain much experience. Gayathri Asokan was lucky to work with many eminent personalities in her field including Ilayaraja and Thiruvasagam which helped to boost her confidence.


Awards and contributions
Gayathri was awarded the Kerala State Film Award (2003) for the song 'Enthe Nee Kanna' from the film Sasneham Sumithra and also received the Art of Living Award (2007) for being an outstanding women achiever. Deena Dayalo Rama (Arayannangalude Veedu), Chanjadi Aadi (Makalkku Manjari), Thumbi Kinnaram (Naran), Ramahare (Soothradharan), Ninviral Thumbil (Beautiful), Thullimajin (Ayalum Njanum Thammil), Mazhaneer (5 Sundarikal), are some of her hits in Malayalam film industry and Anahata, Chants for workplaces, Sankirtan, Smaran, Iniyennum, Vishudhi, Palanivel are some of her famous albums.